Generac Mobile Products MLT6SMD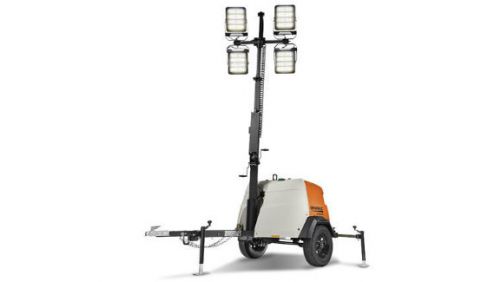 Double tap to zoom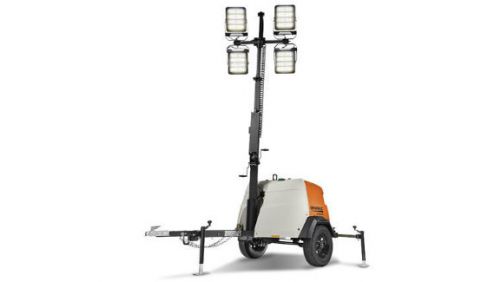 Features
EASY TO USE
Ground-adjustable fixtures for easy and safe lighting adjustments
Vertical mast for fast, easy set-up
Ergonomic, 2-handled manual winch standard; electric winch option
Hitch allows for easy towing and transportation
Standard Power Zone Autolight controller for ultimate programmability
DURABLE & VERSATILE
Mitsubishi diesel engine
Durable LED lights are long-lasting and backed by a 5-year warranty
Poly enclosure is impact-resistance and easy to clean
Each 296W LED fixture can be switched on and off independently
Convenience outlets offer auxiliary power for electronics and small tools
23 ft. (7.01 m) steel mast
Rated to withstand up to 65 mph (105 kph) winds
Up to 6kW of export power for tools and other power needs
SAFE & EFFICIENT
Extended 750-hour service interval
Efficient LED modules consume minimal power
Instant-on LED lights allow for faster startups
Illuminated controls and trailer running lights enhance visibility and safety
Fully rotational mast is safely adjusted from the ground
Compact footprint allows for up to 17 towers on a 48' flatbed
CSA Approved
Specifications
ENGINE
Mitsubishi® L3E – liquid cooled, diesel engine 
o Standby - 12.2 hp @ 1800 rpm 
o Prime - 10.5 hp @ 1800 rpm 
o 1.0 L displacement, 3 cylinder
o ECOSpeed™ EPA Final Tier 4 compliant multi-speed operation
Polyethylene Fuel Tank:
o Fuel Type: Diesel
o Fuel Capacity: 39.9 gal (151.04 L)
o External 3.5 in. (89 mm) fill port •
Fuel Consumption:
o Lights Only: 0.195 gph (0.738 Lph)*
o Full Load: 0.549 gph (2.078 Lph)*
o Maximum Runtime (Lights Only): 205* hours
Cooling system allows operation to 120°F (49⁰C) ambient
750-hour** service interval
Full flow oil filter, spin on type
Dry type cartridge air filter
Wind Rating: 65 mph (105 kph)
*Results based on engine manufacturer and field test data after 100-hour engine break-in period and may vary based on factors including age and maintenance of equipment, environmental conditions and fuel density. Consult the Owner's Manual for fuel and maintenance recommendations. **To achieve maximum service interval, replacement of oil filter after 50-hour break-in period is required. Consult Owner's Manual for required oil filter model number.
GENERATOR
Marathon Electric® ,Brushless
Output:
o Up to 6kW standby 
o Up to 5kW (lights on)
120/240 VAC – 50/25A
+/-1% automatic voltage regulation
ELECTRICAL CONTROLS
Power Zone Autolight Controller 
Automated dusk to dawn or 7-day scheduler operation 
One touch manual starting 
Individual light fixture control 
Back-lit LCD display -40ºF/C rated heated display.
Three (3) programmable service timers for Fuel Filter, Air Filter and Oil Service 
Alarms and comprehensive warnings 
Electrical trip or shutdown protection upon fault condition 
Key pad controlled electric mast optioned deployment
FLOODLIGHTS
Four (4) 296W LED fixtures 
Efficiency: 145 lumens per watt
Lumens per fixture: 43,050
Total lumens: 172,200
Coverage: 19,526 ft2 (1,840 m2) at 0.5 ft-c
IP68 LED modules; IP65 rated drivers 
Aluminum / Poly construction housing 
Fixture-mounted LED drivers
30VDC mast cord and fixture
ELECTRICAL SYSTEM
30A outlet breaker 
Individual floodlight circuits with sealed 5A breakers
o (1) 120 VAC 20 Amp GFCI duplex outlet (NEMA 5-20R type)
o (1) 240 VAC 30 Amp twist lock outlet (NEMA L6-30R type)
Wiring is sized and fused to the amperage draw required
440CCA wet cell battery
MAST
Vertical mast; 23 ft. (7 m), 5-section with ground adjustable light fixtures 
Dual handle manual winch for ease of deployment; electric winch optional 
Distinctive angled fixture mount for common light distribution 
359° ground rotational mast with mast fully extended 
Industrial black powder coat finish with polymer guides 
Self-retracting coiled mast cord
ENCLOSURE
Injection-molded hood enclosure with UV protected colorant 
Flip hood engine compartment for ease of service 
Multi-lingual operating/safety decals 
License plate holder with light 
Manual holder with operating manual
63 dB(A) @ 23 ft. (7 m) – low speed operation
Equipped with single lifting eye and fork pockets
TRAILER
Tubular steel frame 
Three (3) 1200 lb. (544 kg) tube and sleeve leveling jacks 
All jacks transport and lock in position for storage 
Side outriggers deployed – 10 ft. (305 cm) span 
7800 lb. (3538 kg) safety chains with spring loaded safety hooks 
2 in. (50.8 mm) ball hitch 
Molded polyethylene fenders  
DOT approved LED tail, side, brake, and directional lights
2200 lb. (998 kg) leaf spring axle 
ST175/80D13 – 6 ply 
47 in. (117 cm) track width
Would you like more information?