(St. Louis) Hazelwood (314) 895-9500
5920 North Lindbergh Boulevard
(St. Louis) Hazelwood, MO 63042
Paladin Attachments Sweepers, 220 Series, QCSS Angle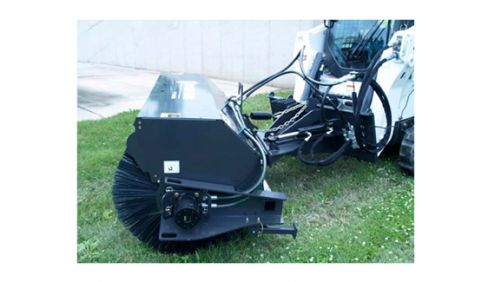 Double tap to zoom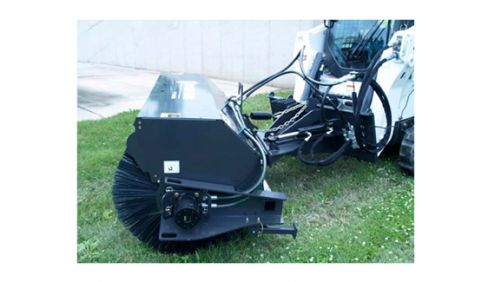 Sweepers, 220 Series, QCSS Angle Sweepers, 220 Series, QCSS Angle
Overview:
The Sweepster QCSS Angle Broom (SSL Angle Sweeper — Hydraulic Drive) is designed for skid steer mount. Use for windrowing material left, right or straight. Available with manual and hydraulic angle and widths from 60 to 84 inches. This product is also available CE certified.
Get a Quote »
Get A Quote
Fields with asterisks* are required. Please email our helpful staff with any questions or comments using the contact form.
Send to a friend »
Send To A Friend
Fields with asterisks* are required. Your friend will receive an email that contains a reference to this page. Please send this email only to people you know who would be interested in this information.
Features
Drive slips out of core without removing hydraulic lines from wheel motor
Brush core is reversible for even brush wear
32" diameter brush for longer life
Angles manually 30 degrees left/right
Faceted hood design provides maximum strength at ends of the hood
Choose poly, wire, or poly/wire brush
Includes skid steer mounting
Specifications
Single Motor Models
Model Number

a. 22059

b. 22060

c. 22071

d. 22072

e. 22083

f. 22084

g. 22096

Overall Height

a. 33.5"

Overall Width @ 0°

a. 74.8"

b. 74.8"

c. 86.8"

d. 86.8"

e. 98.8"

f. 98.8"

g. 110.8"

Overall Length @ 0°

68.5" (same for all models)

Sweeping Width @ 0°

a. 60.0"

b. 60.0"

c. 72.0"

d. 72.0"

e. 84.0"

f. 84.0"

g. 96.0"

Overall Length @ 30°

a. 77.0"

b. 77.0"

c. 80.0"

d. 80.0"

e. 83.0"

f. 83.0"

g. 86.0"

Overall Width @ 30°

 a. 75.2"

b. 75.2"

c. 85.6"

d. 85.6"

e. 96.0"

f. 96.0"

g. 106.4"

Sweeping Width @ 30°

 a. 52.0"

b. 52.0"

c. 62.4"

d. 62.4"

e. 72.8"

f. 72.8"

g. 83.2"

Center of Gravity

 a. 33.5"

b. 33.5"

c. 34.3"

d. 34.3"

e. 35.2"

f. 35.2"

g. 35.9"

Weight (lbs)

 a. 793

b. 831

c. 852

d. 890

e. 915

f. 953

g. 1020

Flow Range (GPM)

 a. 10-18

b. 12-25

c. 10-18

d. 12-25

e. 10-18

f. 12-25

g. 12-25

Hydraulic Motor Displacement (C.I.)

a. 18.3

b. 24.9

c. 18.3

d. 24.9

e. 18.3

f. 24.9

g. 24.9

# of Motors
1 (same for all models)
Maximum Pressure (PSI)

 a. 3500

b. 3000

c. 3500

d. 3000

e. 3500

f. 3000

g. 3500

Maximum Articulation
 30° (same for all models)
Brush Diameter
 32" (same for all models)
_
Dual Motor Models
Model

a. 22061

b. 22073

c. 22085

d. 22097

Overall Height
33.5" (same for all models)
Overall Width @ 0°

a. 74.8"

b. 86.8"

c. 98.8"

d. 110.8"

Overall Length @ 0°

a. 68.5" (same for all models)

Sweeping Width @ 0°

a. 60.0"

b. 72.0"

c. 84.0"

d. 96.0"

Overall Length @ 30°

a. 77.0"

b. 80.0"

c. 83.0"

d. 86.0"

Overall Width @ 30°

a. 75.2"

b. 85.6"

c. 96.0"

d. 106.4"

Sweeping Width @ 30°

a. 52.0"

b. 62.4"

c. 72.8"

d. 83.2"

Center of Gravity

a. 34.0"

b. 34.8"

c. 35.6"

d. 36.2"

Weight (lbs)

a. 831

b. 890

c. 953

d. 1020

Flow Range (GPM)
20-36 (same for all models)
Hydraulic Motor Displacement (C.I.)
18.3 (same for all models)
# of Motors
 2 (same for all models)
Maximum Pressure (PSI)

3500  (same for all models)

Maximum Articulation
30° (same for all models)
Brush Diameter
32" (same for all models)