Pettibone Extendo 1144B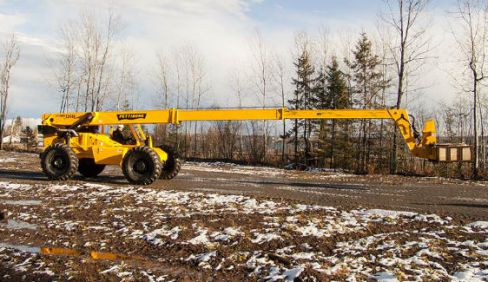 Double tap to zoom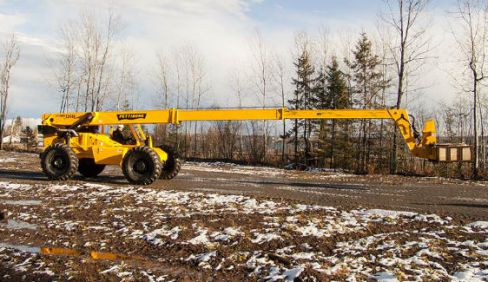 Features
Engine
The 1144B is powered by a 117-HP Cummins QSF3.8 Tier 4 Final diesel engine featuring electronic control and protection with SCR aftertreatment.
MD3 Display
Parker IQAN-MD3 display provides instant engine and aftertreatment diagnostics.
Transmission
Fully modulated Carraro Powershift transmission, with 4-speed forward and reverse with declutch, allows for safe deceleration before shifting gears.
Axles
Outboard planetary axles with oil-immersed, inboard service and parking brakes offer enhanced reliability.
Lift Cylinders
Two wide-stance, heavy-duty lift cylinders are slightly angled toward the center line of the chassis to triangulate the overall alignment. This keeps the boom centered as it elevates.
Rear Axle Stabilization
The rear axle stabilization system slows and locks the rear axle oscillation for enhanced stability as the boom is raised.
Sway Cylinder
Provides 24 degrees of fork leveling (12 degrees right and left of center).
Fork Leveling
The 1144B provides automatic fork leveling without needing slave cylinders.
Reach
Achieves forward reach up to 30 feet, 3 inches and a maximum lift height of 44 feet, 6 inches.
Hydraulics
Pressure compensated hydraulic system and auxiliary boom tip hydraulics give operators the flexibility to use multiple hydraulic functions at once. Single joystick, pilot operated control covers all boom functions.
Quick Connect
Easily switch between standard fork carriage and a wide range of attachments.
Steering
4-wheel drive with 2-wheel, 4-wheel and crab hydraulic power steering modes provides agility in tight spaces.
Turning Radius
Tight turning radius of 12 feet, 6 inches allows for more efficient operation.
Compact Design
Compact enough to fit under 8-foot doorway, yet still provides excellent ground clearance of 18.8 inches.
Tires
Standard 14.00 x 24 pneumatic tires offer 16 ply rating for durability on any terrain.
Operator Cab
Offering unmatched visibility, the cab includes an adjustable suspension seat with seat belt, adjustable right-side armrest, and a full set of gauges for instant machine status.
Specifications
Dimensions-
 
Overall Height
7' 7.5" (232 cm) boom down
Fork Carriage
48" (122 cm) standard
Ground Clearance
18.8" (48 cm)
Overall Length
22' (671 cm) to fork frame
Overall Width
8' 6" (259 cm)
Pallet Forks
2.25 x 4 x 48" standard
Total Operating Weight
27,150 lbs (12,315 kg)
Engine-
 
Model/Power
117 HP (87 kW) Cummins QSF3.8 Tier 4 turbo diesel with electronic control & protection and SCR aftertreatment
DEF Tank
5 gal. (19 L)
Fuel Tank
32.6 gal. (123 L)
Hydraulics-
 
System
Pressure comp, axial piston
Features
Auxiliary boom tip hydraulics
Quick disconnect for attachments
Controls
Single joystick, pilot operated
Performance-
 
Max Load Capacity
11,000 lbs (4,990 kg)
Maximum Lift Height
44' 6" (1,356 cm)
Maximum Forward Reach
30' 3" (922 cm) at 24" LC
Below Grade Reach
3' 3" (99 cm)
Maximum Travel Speed
20 mph (32 km/h)
Turning Radius
12' 6" (381 cm)
Frame
24° of leveling (12° right and left)
Rear axle stabilization system
Fits under 8' doorway
Transmission
Fully modulated Carraro Powershift, 4-speed forward & reverse; parking brake engaged transmission declutch
Axles
Carraro outboard planetary; 4-wheel drive
Steering
4 wheel, 2 wheel, and crab steer
Brakes
Oil-immersed inboard disc service brakes, integral park brake
Tires
14.00 x 24, 16 ply
Boom
Automatic fork leveling without slave cylinders
2 wide stance, heavy-duty lift cylinders
Would you like more information?